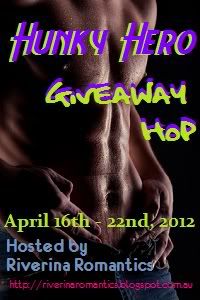 Welcome to the Hunky Hero Giveaway Hop!
This hop runs from 12:01 AM April 16th through to 11:59 PM April 22nd, 2012
Hosted by Riverina Romantics
What is it all about? It's a giveaway of the books with our favorite Hunky heroes!  How fun is that??
There are a lot of hunky heroes to choose from in the fiction world.  But no matter what else I read, I will always choose my favorite Scottish Highlanders:  The MacKeltars. ***sigh***
Because today is the anniversary of the 1746 Battle of Culloden, I'm including three bonus books in this prize bundle.  Patricia Potter's Scottish Trilogy is a series of romance novels set during the time of the 1745 Jacobite Rising in the Scottish Highlands, the Battle of Culloden, and the aftermath of the rebellion for those who survived.    
This is what I will be giving away:
One lucky winner will get to choose either Kindle or paperback versions of two books from Karen Marie Moning's Highlander Series:  Kiss of the Highlander (staring Drustan MacKeltar), and The Dark Highlander (staring Drustan's twin, Dageus MacKeltar).  In addition, you will receive paperback copies of Patricia Potter's Scottish Trilogy.  Note:  Potter's series is not currently available new or in Kindle format, so you'll be receiving gently used paperback copies.
How do you enter?  I always do giveaways the same way.  All you have to do is follow me via LinkyFollowers, Twitter, or Email – whichever you prefer.  Then comment to this post telling me how you follow me.  One entry per person. That's all there is to it! 
BONUS:  If you can recommend a Scottish romance novel to me that I have not already reviewed on this site (or reviewed a book from the series), then I'll give you 5 bonus entries.  It cannot be contemporary.  It can be historical, time-travel, paranormal, fantasy…. anything else is okay.  To get the bonus, you have to be the first to recommend the book.  So if someone posts a comment before you with that same book, then that person will get the bonus entries.  This part is for everyone:  If I wind up reading your recommendation and writing a review of the book on Pedantic Phooka, then I'll send you a $5 eCard from Amazon.  If I give your recommendation a 5Cup rating, I'll send you a $10 eCard from Amazon.  I'm desperate for something new!    
One winner will be chosen at random and announced on April 23rd.
Thanks in advance for participating and Good Luck!