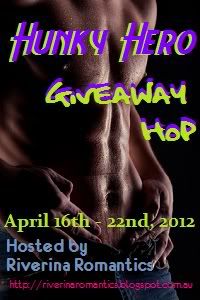 First of all, I need to extend an apology to my readers for the lack of activity on my blog this last month.  My day job (the one that pays the bills) has kept me working 60+ hours per week recently and there hasn't been enough time left in the day for blogging. This is due to picking up a new (very valuable) client, so it is all worth it and must be done.  The worst of the time demands should be behind me now, so I intend to dive back into Pedantic Phooka and make up for lost time.  Thank you for your patience!
Now on to the good stuff……….
Congrats to the winner of the Hunky Hero Giveaway Hop:
Pamela @ Novelly Nice
I will be contacting Pamela this morning to arrange shipping arrangements for her prizes.
This is what she will receive:
Pamela will get to choose either Kindle or paperback versions of two books from Karen Marie Moning's Highlander Series:  Kiss of the Highlander and The Dark Highlander.  In addition, she will receive gently used paperback copies of Patricia Potter's Scottish Trilogy.
For the rest of you who made book and series suggestions, I will respond to each of your posts this weekend to let you know if you qualify for a $5 gift card for your recommendations.  There were several series mentioned that were not Scottish series (which I appreciate, but will not qualify for the gift card giveaway), were series that I have reviewed on Pedantic Phooka already (feel free to check for your recommendation by entering the book title or author's name in the "Search this Site" section in the right sidebar), or were duplicates of recommendations that had already been made by other participants.  While these entries will not qualify for the $5 gift card, I want to thank you all for taking the time to share your favorites.
Thank you to everyone who participated!  I don't have a giveaway planned for May, but I will definitely do something BIG for my 1-year blogiversary in June, so be sure to check back for more info!